README ¶
thist - a go package for calculating online histograms with plotting to the terminal and images
Example
package main

import (
        "fmt"
        "github.com/bsipos/thist"
        "math/rand"
        "time"
)

// randStream return a channel filled with endless normal random values
func randStream() chan float64 {
        c := make(chan float64)
        go func() {
                for {
                        c <- rand.NormFloat64()
                }
        }()
        return c
}

func main() {
        // create new histogram
        h := thist.NewHist(nil, "Example histogram", "auto", -1, true)
        c := randStream()

        i := 0
        for {
                // add data point to hsitogram
                h.Update(<-c)
                if i%50 == 0 {
                        // draw histogram
                        fmt.Println(h.Draw())
                        time.Sleep(time.Second)
                }
                i++
        }
}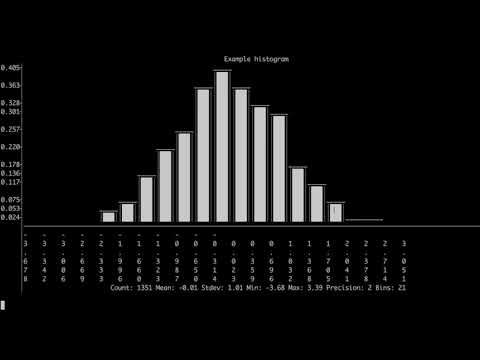 TODO
Add more details on online histogram generation.
Add separate object for online estimation of moments.
Maybe add tcell as a back-end?
Documentation ¶
Constants ¶
Variables ¶
Functions ¶
Types ¶
Hist is a struct holding the parameters and internal state of a histogram object.
NewHist initilizes a new histogram object. If data is not nil the data points are processed and the state is updated.
func (*Hist) Draw ¶
Draw calls Bar to draw the hsitogram to the terminal.
DrawSimple calls BarSimple to draw the hsitogram to the terminal.
func (*Hist) Dump ¶
Dump prints the bins and counts to the standard output.
NormCounts returns the normalised counts for each bin.
SaveImage saves a histogram to an image file using gonum plot.
Summary return a string summary of the internal state of a Hist object.