README
git-ci
😄 git sub-command to interact with CI/CD from command line
🚧 WIP 🚧
Demo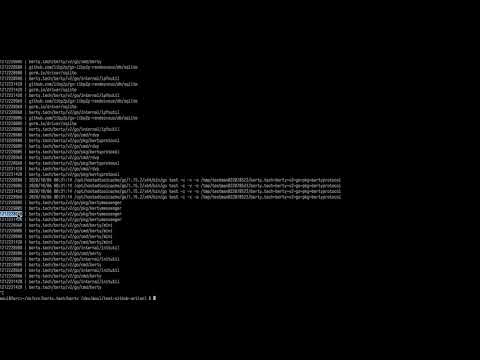 Usage
foo@bar:~$ git-ci -h
USAGE
  git-ci [flags] <subcommand>

SUBCOMMANDS
  status  

FLAGS
  -bearer-env development   bearer.sh optional environment
  -bearer-token ...         bearer.sh optional token
  -debug false              log debug information
  -github-user-session ...  value of the "user_session" cookie on "github.com"

Install
Using go
go get moul.io/git-ci

Releases
See https://github.com/moul/git-ci/releases
Contribute
I really welcome contributions. Your input is the most precious material. I'm well aware of that and I thank you in advance. Everyone is encouraged to look at what they can do on their own scale; no effort is too small.
Everything on contribution is sum up here: CONTRIBUTING.md
Contributors ✨
Thanks goes to these wonderful people (emoji key):
This project follows the all-contributors specification. Contributions of any kind welcome!
Stargazers over time
License
© 2020 Manfred Touron
Licensed under the Apache License, Version 2.0 (LICENSE-APACHE) or the MIT license (LICENSE-MIT), at your option. See the COPYRIGHT file for more details.
SPDX-License-Identifier: (Apache-2.0 OR MIT)
Expand ▾
Collapse ▴
Documentation
Overview ¶
message from the author:
+--------------------------------------------------------------+
| * * * ░░░░░░░░░░░░░░░░░░░░  Hello  ░░░░░░░░░░░░░░░░░░░░░░░░░░|
+--------------------------------------------------------------+
|                                                              |
|     ++              ______________________________________   |
|     ++++           /                                      \  |
|      ++++          |                                      |  |
|    ++++++++++      |   Feel free to contribute to this    |  |
|   +++       |      |       project or contact me on       |  |
|   ++         |     |    manfred.life if you like this     |  |
|   +  -==   ==|     |               project!               |  |
|  (   <*>   <*>     |                                      |  |
|   |          |    /|                  :)                  |  |
|   |         _)   / |                                      |  |
|   |      +++    /  \______________________________________/  |
|    \      =+   /                                             |
|     \      +                                                 |
|     |\++++++                                                 |
|     |  ++++      ||//                                        |
|  ___|   |___    _||/__                                     __|
| /    ---    \   \|  |||                   __ _  ___  __ __/ /|
|/  |       |  \    \ /                    /  ' \/ _ \/ // / / |
||  |       |  |    | |                   /_/_/_/\___/\_,_/_/  |
+--------------------------------------------------------------+